first of all, thanks to everyone for the baby name love. :) i'm glad that people seem as excited about it as we are!
baby names are, naturally, something that i have had picked out for years. ha! i have had an ongoing list, and when i would see or hear of a name that i loved, i would add it. along with that, i would look up the meaning of the name.
in 2001, the country song "austin" came out, and i fell in love. not necessarily with the song (ok, that too), but with the name austin for a girl. (the fact that i got her name from a country song is slightly embarrassing sometimes.) it was my girl name for 8 years. #1 on my list. when my little cousin, rivers, was born, i thought her mama was crazy for naming her rivers. i had never heard that name before, and it seemed sooooo different. it's uniqueness grew on me, and one day, i magically paired it up with my #1 name, austin. i looked up the meaning of these names 1 day, and i fell in love again...
Austin
(majestic, mighty)
Rivers
(river)
if you know my austin personally, you know that naming her "mighty river" was definitely a word of prophecy over her. ha! she is a
strong
mighty river, for sure. her daddy never argued about her name. if you ask him, he will tell you that he didn't have a choice. :) that is not true, but he did agree to it from the beginning.
for some reason, i never paid much attention to boy names. they have always been harder for me to like. i never had a boy name picked out that i just loved. ben and i had a couple of ideas when we were pregnant with austin, but nothing stuck. we honestly were so sure that she was a girl, we didn't discuss boy names much. it has been so hard for us to sit down and discuss them this go-around. we couldn't agree on anything, really. we bought a baby name book with over 100,000 baby names, and i thought,
surely
there has got to be something in there. it did give us some great ideas. some other names that we considered were: william (liam), noah, hosea, conley, conlan, chapman, mayer, creed, and james. in the past, we have also considered adam, alan, and abraham. with every name we thought about, we also considered the meaning of the name.
i first heard the name bennett when i heard about a baby boy that needed prayer. he was born at 26 weeks and 5 days, weighing 1 lb. 4 oz., and was 12 in. long. i followed along his journey in the nicu religiously, which of course was months. every night i had to check to see if there was an update from his sweet mom, adrienne. if i knew that he was going through a rough spell, i would check multiple times a day. some of you may remember this button that stayed on my blog for a long time...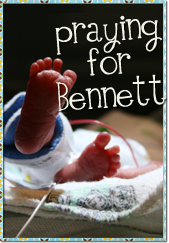 at first, i thought the name was different, but i didn't just love it immediately. in fact, i never even put it on my name list. when we found out that we were having a boy, ben told me to make a list of what i seriously liked, and we would talk about it. for some reason, i thought of baby bennett, and added "bennett" to the list. i thought that it would be sweet since his daddy's name is benjamin. ben didn't like it. he told me several times to scratch it off of the list. i kept asking him why, and refused to cross it out. "cole" has been on our name list for years as a middle name. it was my great great grandmother's last name (i remember her very clearly with great memories as a child). also, my middle name is nicole, and my family and close friends have called me "ashia cole," "a cole," or "sha sha cole" my whole life. when i changed my name when we got married, my mom even talked to me about changing nicole to cole legally, but i decided not to.
as we were going over our boy name list, saying all of the name out loud with cole as the middle name, bennett was my favorite. it was a combination of the 2 of us, and i thought it was perfect. it took about a week for ben to completely agree. :)
Bennett (little blessed one) Cole
honestly, i have no idea what "cole" means. i have looked it up in several places, and it is always a different meaning. some that i have come across are... 1. victory of the people 2. dark one (inferring to coal) 3. cabbage farmer 4. of a triumphant people
. so who knows. :)